VISIT FREQUENCY REPORT
The Visit Frequency Report is incredibly useful in fiscal and program planning, as well as dispelling myths regarding people "abusing the system."
This report will provide the following information within a selected date range:
The number of visits households made.
The number of visits individuals made.
The percentage of total households making visits.
The percentage of total individuals making visits.
To open this report select the "Reports" tab at the top of the dashboard screen. Drag your curser down to the "Guest" menu item. This will open a submenu showing the different outreach reports available. Drag your curser to the submenu item "Visit Frequency" - click it.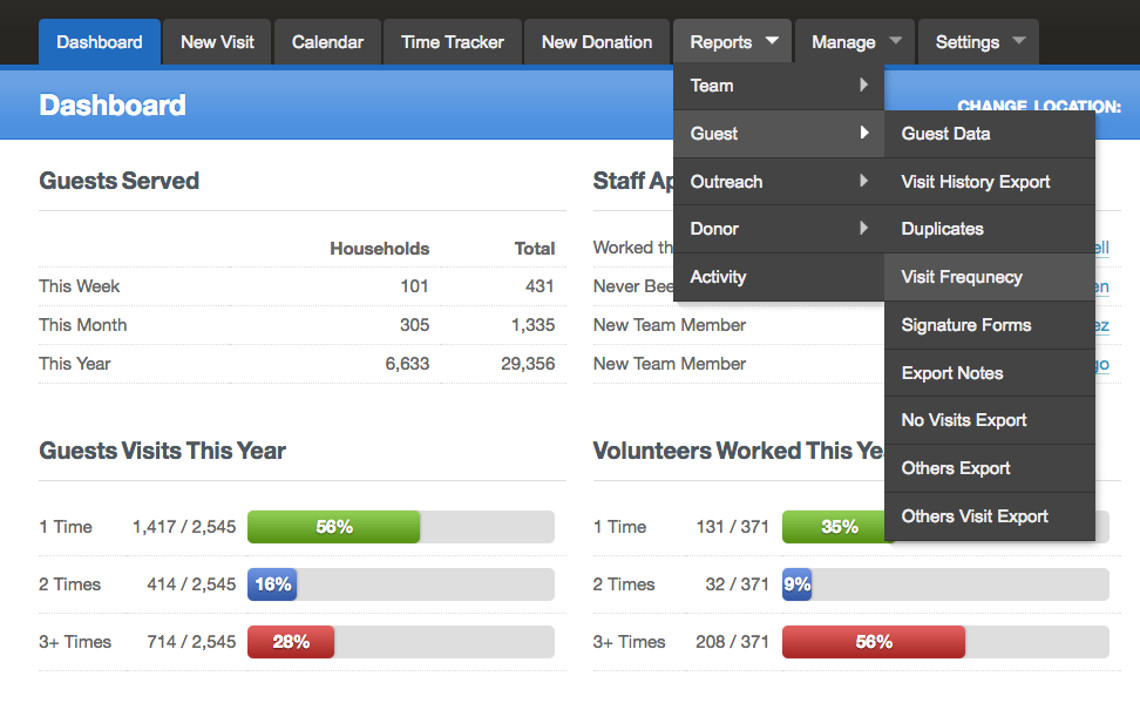 To configure the report enter the date ranges your selection of data will contain. Click in the "From" date box and using the date picker choose the starting date for this report. Follow the same procedure to set "To" date or the last date the data selection will contain.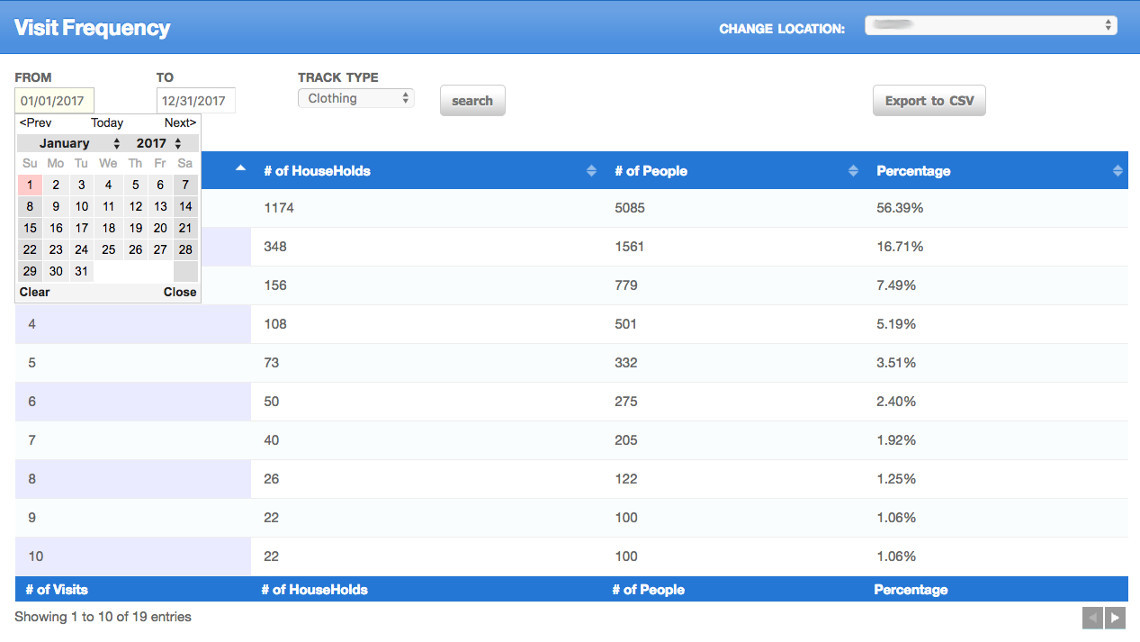 Click on the "Track Type" box to see a list of all of the services provided and choose the one to be reported on.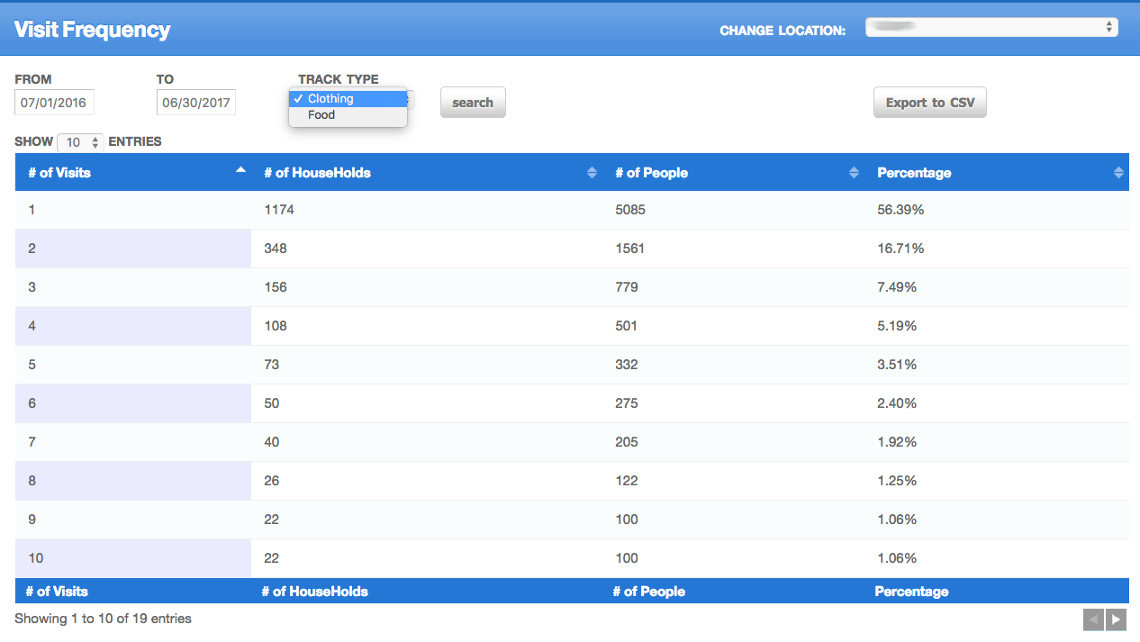 Now that your report is configured for the data needed, click on the "Search" button. This will show you the requested numbers on the screen. You can also click on the "Export to CSV" button, found at the top right hand side of the screen. Export the report to have a paper copy or to customize the data to your needs or place in another report format.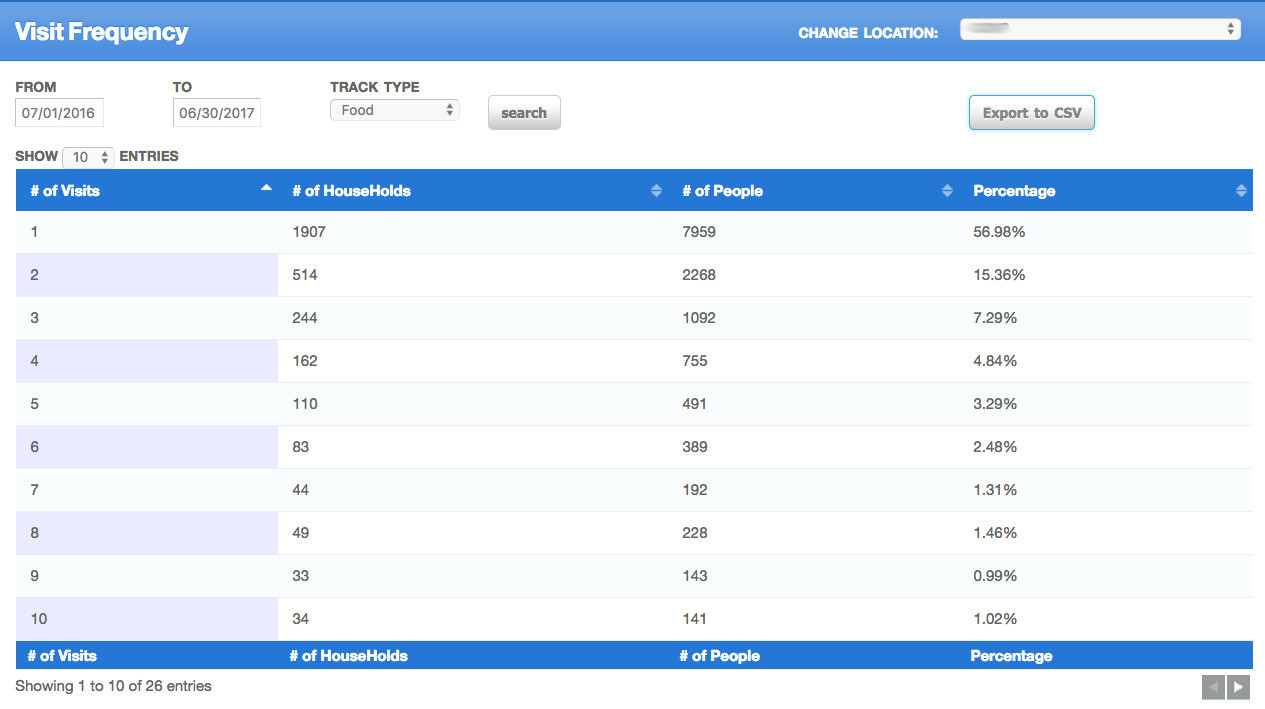 The image above is a report from a real pantry. The date sample is for a fiscal year 7/1/16 to 6/30/17 and is reporting out the "Food" track type. This provides the visit frequency numbers for the entire fiscal year. If you want to see the actual report click the "Download" button to the right to get your own copy.
Understanding this Report:
This agency allows clients to visit two times per month for food. I ran a visit frequency report for one calendar month 6/2017, and find the following:
| # of Visits | # of Households | # of People | Percentage |
| --- | --- | --- | --- |
| 1 | 496 | 2269 | 77.14% |
| 2 | 146 | 586 | 22.71% |
| 3 | 1 | 6 | 0.16% |
You now know that of the 653 households served during the month, 496 of them (comprised of 2,269 individuals), only visited one time. Two visits were made by 146 households (comprised of 586 individuals) and one household visited three times. Of your total clients served for the month, 76% of them only visited once, etc.
NOTE: The numbers provided to you in this report will always be unduplicated.
The following formula can be used to compare accuracy in your data:
In your Duplicated/Unduplicated Report, you know your duplicated household number is 791.
496 + 292 (146 Households x 2 Visits) + 3 (1 Households x 3 Visits) = 791
Your agency provided 791 visits, which is the same number as duplicated households.
Examples of How to Make Use of this Report: Dispelling Myths
We are all aware of a persistent myth around people who need services. As advocates of our clients and leaders of our agencies, this report can help combat some of the misconceptions related to "abusing or taking advantage of the system" with inarguable, concrete data.
Example
Your agency wants to know how often clients visited your food pantry in a fiscal year. You run the Visit Frequency Report, export to Excel and customize in the following way:
This chart indicates that 72.34% of the pantry clients only visited the agency two times or less within FY2016/17. Furthermore, 90.24% of the clients visited six times or less within that fiscal year. This can easily be crafted into messaging pointing to the fact that people do not take advantage of the system and most likely use your services in an acute moment of need to provide stability and be able to address other financial responsibilities such as rent or mortgage, medical bills, etc. because they received no cost food.
| # of Visits | # of Households | # of People | Percentage |
| --- | --- | --- | --- |
| 1 | 1907 | 7959 | 56.98% |
| 2 | 514 | 2268 | 15.36% |
| 3 | 244 | 1092 | 7.29% |
| 4 | 162 | 755 | 4.84% |
| 5 | 110 | 491 | 3.29% |
| 6 | 83 | 389 | 2.48% |
| 7 | 44 | 192 | 1.31% |
| 8 | 49 | 228 | 1.46% |
| 9 | 33 | 143 | 0.99% |
| 10 | 34 | 141 | 1.02% |
Evaluating Services and Strategic Planning
Using the same chart above this agency can recognize that three-quarters of all clients only visited two or less times in a year. In fact, 57% only visited one time. You can ask yourself the following questions:
Are these clients benefitting to the fullest extent possible during their minimal visits?
Have you provided enough food and additional resources during each visit?
Is there any reason, other than not needing to, that a household hasn't come more often? Is it the experience? Do you need to create a client survey to find out?
Can you look at your food/service budget and allocate more per household, up your limits on food, provide more household items or non-food items?
Perhaps your data shows that clients visited MORE frequently than you predicted. What messaging can be created from that? What are you learning from these numbers? Extreme need in your service region? Job layoffs? Lack of connections to additional resources or other human service organizations? How can you strategically plan to address this?
Make the most of this information. Look at it from every angle. Create messages that tell the true story of your agency and food insecurity. Plan for effectiveness based on accurate data!