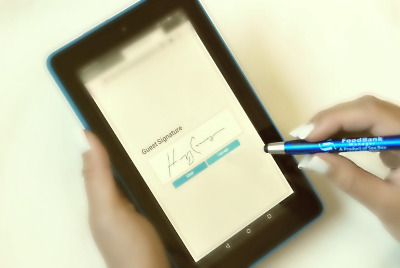 FoodBank Manager offers two ways to collect electronic signatures.
The All-In-One System/Configuration
A wireless touch device that pairs to your desktop or laptop.
The All-In-One System
The All-In-One system requires the use of a touch pad or tablet such as the iPad, iPad Mini, Android tablet or similar device. FoodBank Manager runs directly on these devices exactly as it would on your desktop computer. When a signature is required, tap the request signature button, the device turns into a signature pad. Ask the client to read and accept the certification agreement (if applicable), and sign in the box. Their signature will appear in the system . If you don't like the signature for any reason you can request a new signature and redo the signature process. Save the visit and you are done.
Wireless Touch Device Pairing
This method is easy and simple to implement. We recommend a tablet that has a screen size of at least five inches and is wifi capable. Use the pairing tool to connect the device to your desktop or laptop, making the tablet a signature pad that the client signs. (Most groups ask for donations of any old tablets they are not using.)
Note: Topaz Signature Pads are not supported by FBM due to their expense and inability to properly support the USDA signature programs.